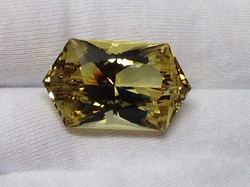 39.6 carat Heliodor or Golden Beryl. Measuring 29.75mm long by 17.5mm wide and 13.45mm deep.

---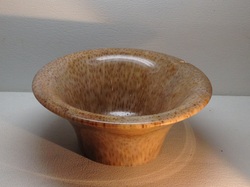 I cut this piece of petrified palm wood into an approximately 3 1/2" diameter x 1 1/2" tall bowl.
---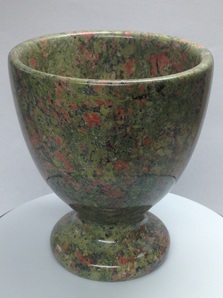 This unikite goblet is about 4" tall and 3 1/2" in diameter and holds up to 6 oz. of your favorite beverage!
---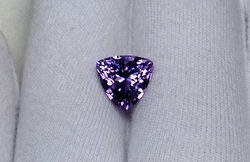 This amethyst from Uruguay I faceted into a 10 mm trillion shape and it weighs 3.46 carats.
---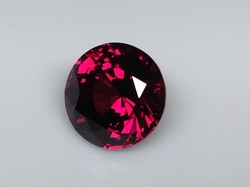 I cut this rhodolite garnet into a 5.22 carat 10mm round faceted gem.
---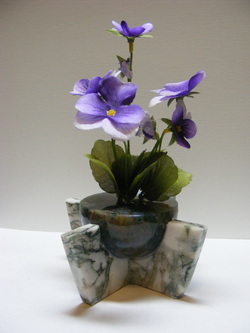 I came up with this design while in the gift shop at Frank Lloyd Wright's Falling Water and thought I would do something similar out of Gem Stones. The base is made from tree agate, moss agate and the flowers are silk.
---
The base I cut from Pennsylvanian rhyolite with copper and the removable sterling silver necklace that fits in it is set with Zambian amethyst.
---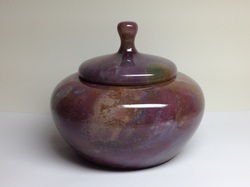 I cut this fancy jasper into a 4 inch diameter 4 inch tall sugar bowl.Ain't she sweet?
---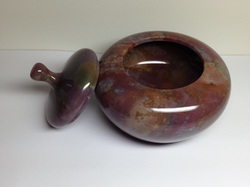 All polished up inside and out.
---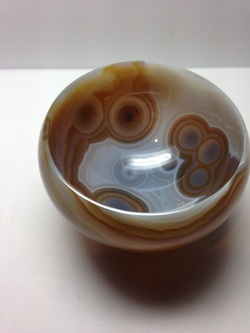 This Brazilian agate bowl is about 3 inches in diameter and I really like the eye pattern inside.
---

This knife is about 7 1/2 inches long and made from Ohio flint I collected in Flint Ridge Ohio.
---